Adrien Reimann co-founder of the company Amelkis was the guest of BFM Business to talk about the digitalization of financial publications.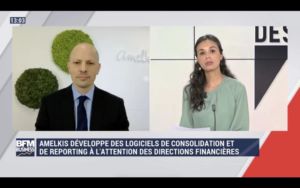 SEE THE INTERVIEW BFM Business
What is it about ?
From 2021, financial reports of listed companies will be available in a new digital format that will allow much faster access to data. This new Xbrl format is in a way the hashtag of finance.
Today, if you search on the Internet for the financial results of a company, you will most of the time come across a document of several hundred pages and you will probably lose a lot of time to find the information you are interested in.
From 2021 onwards, thanks to the new Inline XBRL technology, your search engine will instantly show you not only the financial results of this company but also its evolution and its comparison with other companies in the same sector.
The ESEF regulation that imposes this Inline XBRL technology has several objectives :
To allow European groups to communicate in a more efficient way
Catch up with American companies that already use this technology
Increase the visibility of Small and Middle Cap companies to allow them to develop more quickly
Boost the number of introductions on the stock market
It took more than 15 years for this technology to be launched in Europe.
So concretely how does this XBRL technology work and what solutions does Amelkis offer ?
An Inline XBRL report is in fact a WEB, HTML document in which financial information has been tagged to allow search engines to find it instantly.
Amelkis XBRL is the Cloud solution published by Amelkis to achieve this type of report.
It allows either to convert a pdf document into XBRL without any loss of graphic quality or to produce the whole document online thanks to disclosure management functions.
With this solution, Amelkis clearly aims to be a leader in the French and European market. We offer our users very innovative features and a quick compliance.
Beyond this first application, what developments can we expect ?
To give you an example, in the United States, listed groups must tag all the data in their reports. This represents more than 5000 tags. In Europe, for this first year of application, we are only at 150 tags, but this is only a step and we think that in a few years Europeans will have caught up.
There is also increasing talk of tagging extra-financial data to enable groups to demonstrate their commitment to CSR.
And finally we think that this technology could allow us to replace our old tax standards or to digitize the filing of accounts with the clerk's office, which I remind you is still done in PDF format, which is the equivalent of paper. This will allow Bigdata tools to exploit this data.
To learn more about Amelkis XBRL: https://amelkis-xbrl.com